For me, books have been the greatest companions ever. To jump into another world that is not my own, to dream and conjure sets full of people in different clothes or a sky forecast with rain while the sun shines down my back- there is nothing that a good book can't do to the term 'impossible'. I love the parallel lives that any book-lover lives.
Funnily enough, I have never had a library card outside my school where the habit began and gained momentum.I loved the idea of owning the books I read and I still do, fancy a private library. Back in the days, I used to pocket little coins and change that I used to get and buy 'Tinkle' for Rs.2 from old paper marts where people sell old papers, pamphlets etc for money. I remember the days of relish as the stack of my comic books grew,slowly leading its way to finding Enid Blyton and other authors that people threw away, in the collection. As I grew up, this habit only tantamounted. While I still do shop at the various leading bookstores for new copies of books, most of my books are from second-hand bookstores and old paper marts. A book or two are hand-me-downs from my father's old collection. I can't tell you the pleasant and satisfied sigh that escapes me every time I open my steel bureau full of books. An impending problem with adding merely two more books to the lot is the fact that there is no more space for any more new books. I can't even begin to tell you how happy it makes me feel. Almost like having a child and watching it grow up and go off to college. That would be say the least.
In the several visits to these old paper marts, I have found many a book that I have always wanted to own. I have books decades older than me, bearing signatures and love notes inside dated from a time when books were still the most popular gifting option. I have come across random authors who I have never heard of, who have moved me to tears making me wonder how they have not been listed on the internet listings of brilliant books. I get super excited when I find a character who shares my name or a close friend's. I still remember the book in which the protagonist shared the same birthday and year as my sister's. It's a wonderland really.
I am happy every-time I visit these places and get a book. I love it. But I also feel a tad bit bad for the book and sometimes its old owners. I once came across a collection of about hundred or so books dumped at an old paper mart near empty alcohol bottles, plastic junk and the likes that is to be found at any paper mart. That is not odd, to find old books finding its place there. The reason why it was so disheartening was because all of those books that I could lay my hands on that day came from the personal library of a man who had even managed to have them stamp printed on the front page announcing his name and address. Any person who would have collected so many books and built a personal library would never be capable of discarding them away like that. My guess is that the second or third generation of his family would have given it up after the owner and I guess they thought that the books were only good for its weight's equivalent money. (If something like that ever happened to my books after my death, I'd haunt my people.).I have a book picked up, an Ernst Hemingway from that lot for which I am grateful but I can't imagine how the same would have been of so much pleasure to someone else... maybe a circulating second's sales or a library that could always do with more books. I believe we should at the least have the concept of yard give-aways where people can pick up the books they would love to adopt and take care of. What a lovely appeal has that got, eh?
The books at the paper marts are not immediately thrown away. They are displayed for people like me and you to come and adopt for a new shelf,welcomed by new book-mates. I might even be romanticizing this too much, but I just can't help it. The owners of such marts are ever too helpful. I have befriended a handful from my area who keep aside books if I ask them to and give me discounts on the books I purchase from them. Try it once. I can assure you that it is a fulfilling joy.
Spread the message.Let's be a book-liver as well as lover. Let's all adopt books for the joy of another world that needn't go into the shredder.
P.S: Medical experts and bored people, don't come off with what the term 'liver' means. I don't mean the body part. You exactly know what I mean.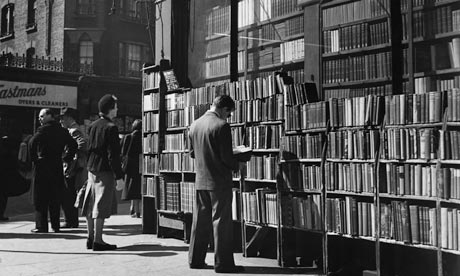 Second hand bookshop on Charing Cross road, London-1951-Photo credits: John Chillingworth/Hulton Duetsch Collection
~Hemu